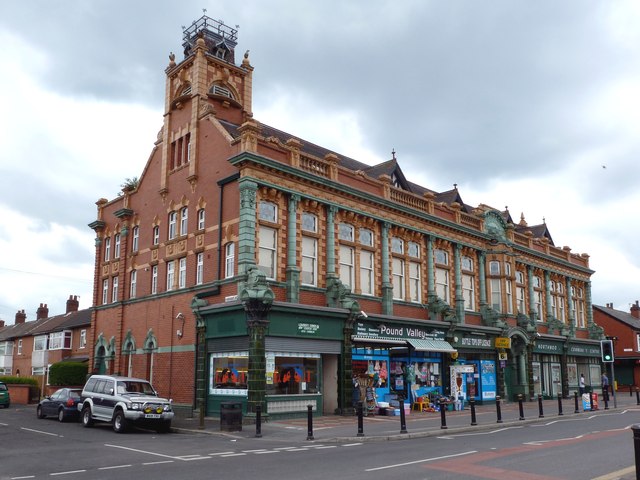 The old co-op building on Northmoor Road in Longsight, Manchester M12 5RT is an impressive building. Enough to be classed as a Grade II Listed Building in 1994. The other week it celebrated its centenary, only a few months late as the date on the building states 1912.
It was built for the Beswick Co-operative Society, founded in 1892, and a thorn in the trading area of the Manchester & Salford Equitable. The Beswick ignored any territorial agreements and would open branches were they felt they could do business. Thus districts like Levenshulme, Ancoats, Withington and Didsbury would have rival co-op stores.
Northmoor Road, originally called North Road was developed between 1899 thru to the 1930's. The most famous person to reside there was J.R.Tolkien between 1926-1947. We don't know if he went to the co-op for his tea and biscuits between writing another page of The Hobbit or Lord of The Rings.
The building rises up to two floors plus attic rooms in a square tower. It used to have a meeting room used as ballroom for dances to live music. The property is now owned by Great Places Housing Group who provide affordable, social and supported housing across the north west and Yorkshire.​​​​​​​​​​​​​ There is now a community centre and small business units on the ground flour. Apartments are on the upper levels. It's not every building that has a party by local residents to celebrate its 100th birthday. It was reported in the local newspaper, "the co-operative building is loved by all in the area, and that showed with the amount of local residents who came to the event." - South Manchester Reporter 25th April 2013.
There is no doubt a lot of history to this building, it is something I must follow up someday.
Further reading :
Northmoor Road (Wikipedia)

Description of the architectural features
(Images of England)
Photo credit to
www.geograph.org.uk